Now Playing at Third Eye for Friday 11/3/23
November 2nd, 2023
TICKET TO RIDE LEGACY: LEGENDS OF THE WEST takes you on an unforgettable trip!
It's the late 19th century and America is booming. New train companies compete to satisfy the needs of a growing population. Merchants, officials, food and goods need to travel from one place to another. An intricate network of train lines has appeared.

Thaddeus Reeves was one of the young entrepreneurs dreaming of connecting the entire nation and succeeded beyond his wildest dreams. Reeves Rails quickly established lucrative train routes from the Atlantic to the Mississippi and the company's future is bright. But greedy rail barons are looking at Thaddeus' growing rail empire and thinking about how they can take it away.

As the years have rolled along, Reeves Rails has continued to grow and thrive. Your new train company is ready to take part in this remarkable industry. Possibility and fortune shimmer off the paint of your newly purchased steam engines and this new express network should make all the difference.
Satisfied, you open the newspaper and read the headlines from out west…
Ticket to Ride Legacy: Legends of the West finally gives you the chance to step into the story of your favorite train game and explore the imagination of Rob Daviau, Matt Leacock and Alan R. Moon. You will embark on a journey across twelve games, managing your own North American railway company to wealth and fortune in a campaign full of adventures.
Completing your tickets will remain your primary goal, but you will need to develop other skills if you hope to overcome the unexpected events and your resourceful rivals. Game after game, route after route, you will continuously fill your vault with earnings. As the story progresses, you will open frontier boxes that will unlock new rules, content, and many more surprises.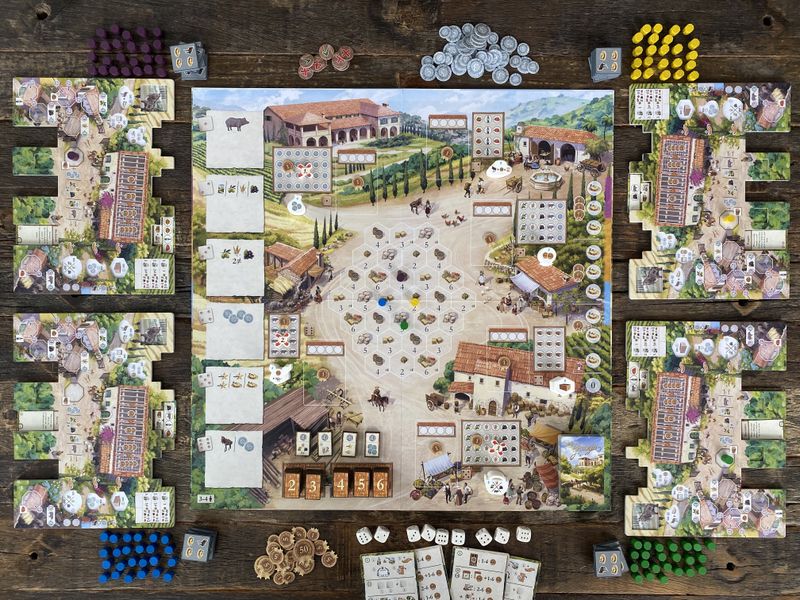 LA GRANJA Expanded! Live your Cottage-core fantasy and build your dream farm!
Stardew Valley meets strategy tabletop!
La Granja: Deluxe Master Set is an upgraded and expanded version of the 2014 game La Granja in which 1–4 players manage small farms by the Alpich pond near the village of Esporles on Majorca.
The players must carefully consider the decisions of which dice to draft, which cards to play, when and where to deliver goods to various markets, and how best to utilize the flexible powers afforded by several "anytime" actions.
The multi-use cards offer four different options for players to choose from. Decide whether you want to use the card as an extension to your fields (increasing your ability to grow olives, grain, or grapes), as an extension to your farm (increasing the number of pigs you can house, the deliveries you can make, or the coins you will earn each round), as a market barrow (providing a personal contract you can fulfill for valuable rewards), or as a hired helper (each providing a unique and powerful ability to improve your actions).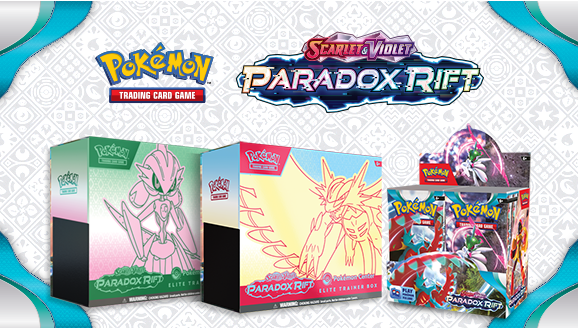 Travel through time with this Chaotic Cosmic Booster Pack!
Dive into the clouds and explore a land that appears to be unbound by time! With ferocious attacks, Ancient Pokémon like Roaring Moon ex and Sandy Shocks ex appear alongside artificial Future Pokémon like Iron Valiant ex and Iron Hands ex. Meanwhile, Garchomp ex, Mewtwo ex, and others Terastallize to gain new types, as Armarouge ex, Gholdengo ex, and more Pokémon ex join the fray. Adventure awaits as timelines collide in the Pokémon TCG: Scarlet & Violet—Paradox Rift expansion!