Now Playing at Third Eye for Friday 9/29/23
September 28th, 2023
The standalone sequel to SCYTHE: EXPEDITIONS!!!
This hot new game sends players on a new adventure into Siberia, where a massive meteorite crashed near the Tunguska River, awakening ancient corruption. An expedition led by Dr. Tarkovsky ventures into the taiga to learn about the meteorite and its impact on the land. Itching for adventure, heroes from the war privately fund their own expeditions to Siberia, hoping to find artifacts, overcome challenges, and ultimately achieve glory.
Expeditions is a competitive, card-driven, engine-building game of exploration. It is designed to evoke similar feelings to Scythe even though the mechanisms are different: Play cards to gain power, guile, and unique worker abilities; move your mech to mysterious locations and gain cards found among the tiles; use workers, items, meteorites, and quests to enhance your mech; and use power and guile to vanquish corruption.
We've got the REGULAR and IRONCLAD versions available!
Order now for THIRD EYE PICK-UP🛒 OR THIRD EYE SHIPS📬👉
STARDEW VALLEY: the Board Game
There is a hot new co-op farming game coming your way this Friday!!! Haven't played the smash hit indie video game Stardew Valley? You might want to check this out if you're a fan of table top games like ROOT and video games like ANIMAL CROSSING!
Work together with your fellow farmers to save the Valley from the nefarious Joja Corporation! To do this, you'll need to farm, fish, friend and find all kinds of different resources to fulfill Grandpa's Goals and restore the Community Center. Collect all kinds of items, raise animals, and explore the Mine. Gain powerful upgrades and skills, and as the seasons pass, do your best to protect the magic of Stardew Valley!
ORDER FOR THIRD EYE PICK-UP🛒 OR THIRD EYE SHIPS📬 HERE!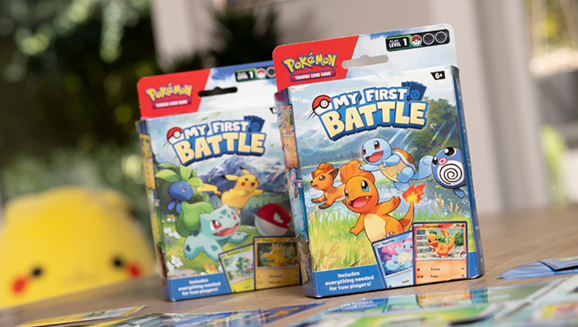 A SICK NEW POKEMON TCG FOR BEGINNERS!
Everyone deserves to be able to play Pokemon! Teach a young person in your life, or just get into a long-standing game with a little less pressure!
If you've always wanted to play the Pokémon Trading Card Game with family and friends, the Pokémon TCG: My First Battle set is the perfect introduction. With a streamlined game and foolproof guidance, you'll be ready to train and battle together. Everything you need for two players is included!
ORDER FOR THIRD EYE PICK-UP🛒 OR THIRD EYE SHIPS📬 HERE!
Digimon TCG: Resurgence Booster Box!
This is a special Reboot Booster set composed of reprinted cards + new cards like the Japanese version!
The reprints are focused on hard-to-obtain early Digimon cards along with cards that are great for tournaments! Plus all cards including common and uncommon use premium foil!
This set focuses on cards that have never been released in English before, including exclusive English designs for cards with new English text and alt-art cards of past cards!