UNCANNY X-MEN #1 Release Party
FIRST 50 TO PURCHASE UNCANNY X-MEN #1 WILL BE ENTERED INTO A PRIZE DRAWING TO WIN A 1:150 UNCANNY X-MEN SKETCH VARIANT! VALUED AT $149.99!
We're kicking off the launch of UNCANNY X-MEN with a huge MARVEL NOW launch party of UNCANNY X-MEN #1. Join us for a day of cool giveaways, a chance to score exclusive variants, and of course, your opportunity to buy the PARTY exclusive DEADPOOL '53 State Birds' cover, which is a fun little riff on the upcoming JUSTICE LEAGUE OF AMERICA #1's state flags covers.
This is one of the X-Titles we're most looking forward to, and are totally amped to help you guys kick off this incredible looking new series at Third Eye!
Focusing on the X-Tinction Team of Cyclops, this is the OTHER side of the X-Universe, and the counterpart to the red-hot ALL NEW X-MEN.
As the true flagship title of the X-Men, UNCANNY focuses on a world that has changed in the wake of the Phoenix and is torn on exactly what Cyclops and his team of X-Men are – visionary revolutionaries or dangerous terrorists like the Brotherhood of Evil Mutants?
Whatever the truth, Cyclops, Emma Frost, Magneto and Magik are out in the world gathering up new mutants and redefining the name UNCANNY X-MEN.
Is this the dream of Charles Xavier… or Magneto?
Focus, this book is going to be OFF-THE-CHAIN!
Please join us on Wednesday for what's sure to be a big launch!
Here's what we have in store:
– FREE lithos and other cool swag with purchase of UNCANNY XMEN #1
– FIRST chance to purchase UNCANNY X-MEN #1 variant editions!
– PURCHASE the special LAUNCH PARTY exclusive DEADPOOL '53 STATE BIRDS' Variant, featuring the Baltimore Oriole on it!
– OTHER awesome giveaways and X-Related fun!
– – BUY UNCANNY X-MEN #1 on WEDNESDAY 2/13 and HAVE YOUR E-MAIL LISTED ENTERED INTO A SPECIAL TOP SECRET PROMOTION TYING INTO A FUTURE MARVEL NOW TITLE!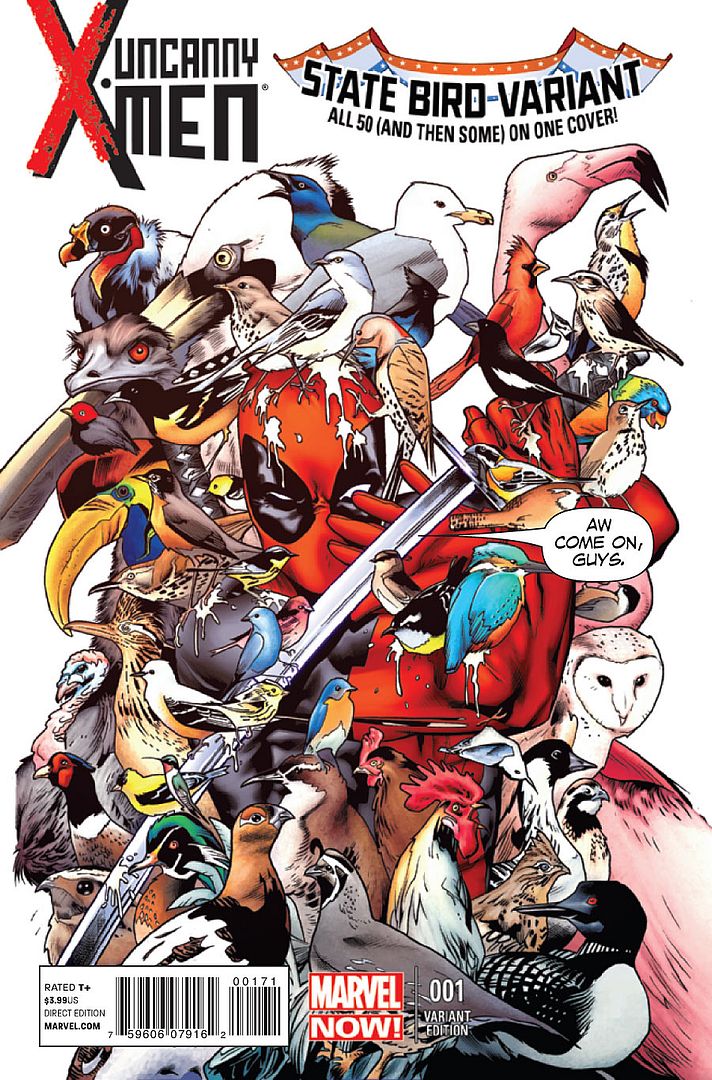 Click here for the event info on FACEBOOK!