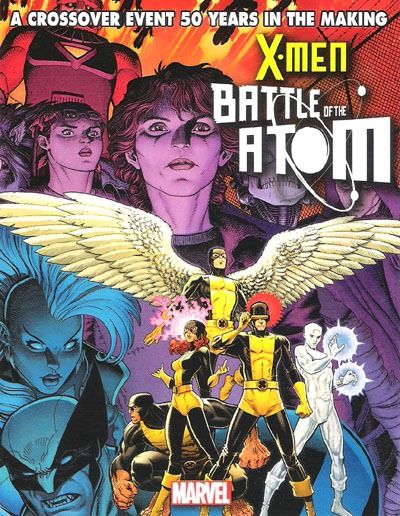 We've been totally loving the direction of both UNCANNY X-MEN and ALL NEW X-MEN, so when we saw that Marvel was rolling out their biggest X-MEN event since the now-classic MESSIAH COMPLEX… we knew were in for a real treat.
Starting this September, BATTLE OF THE ATOM is a 10-chapter X-MEN crossover event that will run run through ALL NEW X-MEN, UNCANNY X-MEN, X-MEN, and WOLVERINE AND THE X-MEN.
Helmed by BRIAN MICHAEL BENDIS, the writer behind ALL NEW X-MEN and UNCANNY X-MEN, this 10-part crossover will chronicle the X-Men of the future traveling to the present day in order to force the All New X-Men (the younger versions of Scott, Jean, and so on, that've been pulled from the past and dropped into the present) to return to their rightful time, as their presence in the current timeline will result in disastrous consequences.
What's even cooler is some of the big things that this storyline is going to lead to, including the much-rumored combining of all the various alternate X-MEN futures into one concrete future. From DAYS OF FUTURE PAST to AGE OF APOCALYPSE, we're expecting some very interesting stuff.
Not to mention, with the DAYS OF FUTURE PAST film on the way, you can bet that the events of this epic storyline will have an influence on the direction of the film, as much as the now-classic X-MEN DAYS OF FUTURE PAST storyline does.
This is shaping up to be, quite possibly, the best X-MEN storyline in over a decade, and we cannot wait to see how it comes to be. We haven't been this pumped for an X-MEN event since SECOND COMING.
BATTLE OF THE ATOM CHECKLIST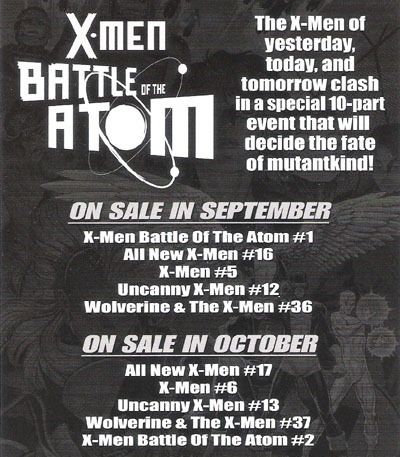 Want to subscribe to the entire BATTLE OF THE ATOM event, and get all 10 Chapters reserved for you?
NEW SUBSCRIBERS, click here, and enter "X-MEN: BATTLE OF THE ATOM"
EXISTING SUBSCRIBERS, click here and enter "X-MEN: BATTLE OF THE ATOM"
X-MEN BATTLE OF THE ATOM LAUNCH PARTY
WEDNESDAY 9/4/13
In celebration of the launch of BATTLE OF THE ATOM, we're going to be hosting a very special release party and event for issue #1 on Wednesday 9/4/13.
We'll be offering a ton of cool stuff for the event, including:
The BATTLE OF THE ATOM #1  Party Exclusive DEADPOOL 'SWAG' Variant
FIRST Crack at purchasing the limited edition variant covers of BATTLE OF THE ATOM
SPECIAL Savings on SELECT X-MEN graphic novels
BE Entered to Win A copy of NEW MUTANTS #98, featuring the FIRST APPEARANCE of DEADPOOL with purchase of BATTLE OF THE ATOM #1
Click here for the full event details on FACEBOOK for THIRD EYE ANNAPOLIS.
Click here for the full event details on FACEBOOK for THIRD EYE ST. MARY'S.